WINTER | CHRISTMAS | NEW YEAR'S EVE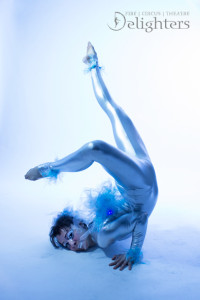 WINTER SPRITE
Frosty and shimmery acrobatic creature form the spirit world. Contortion, hand balancing and acrobatics are her specialties. She'll use features of the environment to stretch against, the floor, people, furniture in her lit up costume.
Perfect walkabout character but she can also amaze you with a stage show.
Photo by Kat Dlugosz Photography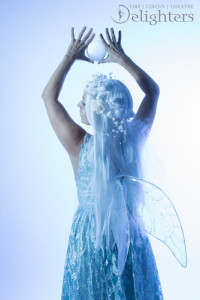 WINTER FAIRY
This fabulous glow in the dark character manipulates crystal balls effortlessly like bubbles of ice. Elegant and mysterious walkabout act, or can be booked for a stage show with single contact ball, multi balls and isolation hoops.
Photo by Kat Dlugosz Photography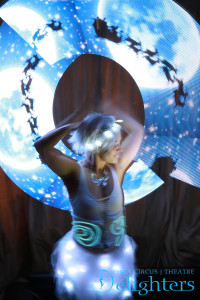 SNOW FAERIES:
Performed by our snow faeries in their lit up costumes, painting ice flowers into the air with hoops, staffs, poi and the visual poi. Mind blowing 15 minute show. Best served in pairs – 2 performers available.
 
Fabulous walkabout character in GLOW IN THE DARK costume. She can be on stilts or on the ground, and perfect for Winter themed events or for a VENETIAN MASQUARADE.
The walkabout performance can include hula hooping, poi and juggling acts, contact juggling, ribbons, or glow equipment for the night.
SANTA GIRLS: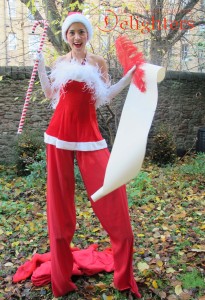 Santa's cheeky helpers are out to see if you were naughty or nice. These Christmas themed walkabout characters are fun entertainment for your guests or clients as a Meet and Greet or Mix and Mingle entertainment. They are collecting X-mas wishes to deliver to Santa – from all children under 99. Even wishes you wouldn't dare to say!
They are also great dancers, they will turn any dance floor lively with their sleek moves. Up to 3 of them available.
SEASONAL ACTS: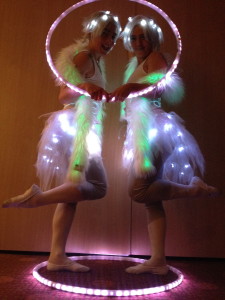 Snow Faeries Day- or Glow Show
Cheeky hula hooping Snow faeries for Mix & Mingle or Meet & Greet walkabouts.
This act can be booked as a daytime entertainment or as a Glow In The Dark show.
Solo or Double act available.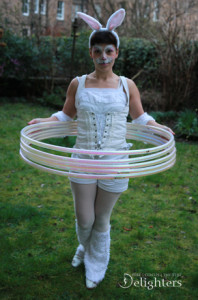 Hula Hooping Easter Bunny
Great walkabout act for Meet and Greet or walkabouts for an audience of any age. Indoors or outdoors.
Skillful hula hooping meets fun and character play.
A peaceful, almost frozen looking lady in a white dress, deeply engaged in her book. Until she comes to life to be cheeky and humorous, performs as mime or reads aloud from her book: The Fifty Shades of White.
She is sometimes seen without her book, giving out little messages of wisdom or being frozen in the middle of a dance. She is also a great dance partner when she comes to life!