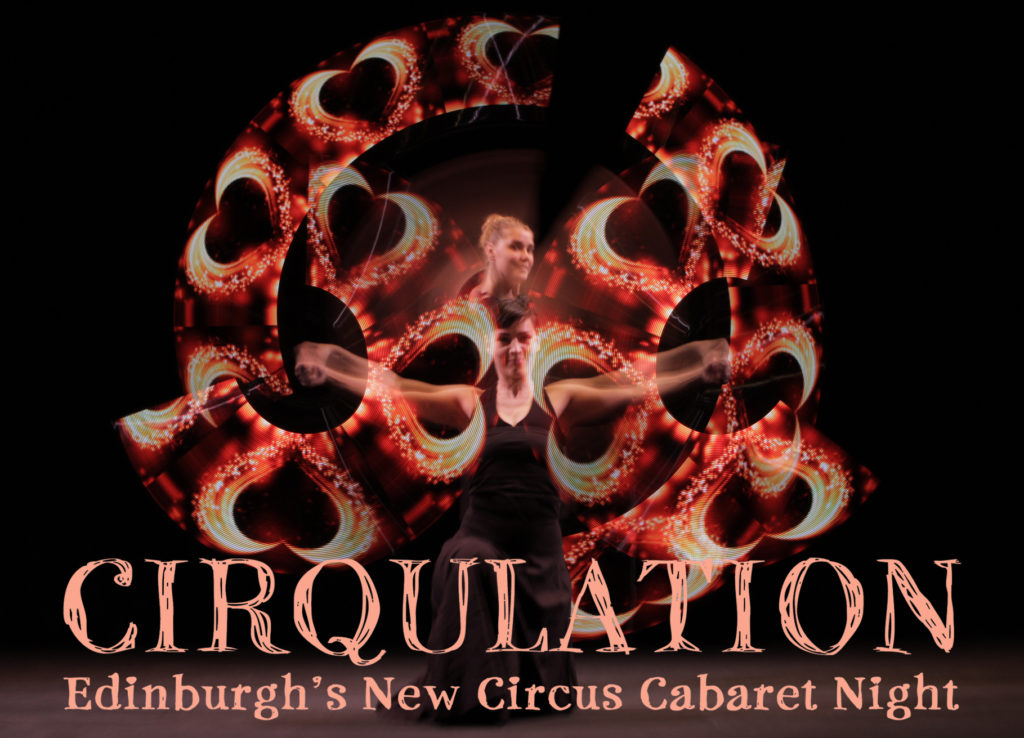 Scotland's new Circus Cabaret Night: CIRQULATION is back!!! Freshening the blood flow of Circus Arts in the capital of Scotland.
Welcoming back the light the theme this time is LOVE.
The inspiration for so many art works, poetry, song, blessed madness, the seed of life.
Think sweet or accomplished, dangerous or tainted, walking in the clouds, obsessive, ridiculous, cheesy, grotesque, twisted, unfulfilled or platonic.
Love is blind, they say.
The event is to inspire the creation of new acts by established and emerging circus artists across Scotland and to make contemporary circus available for communities in Edinburgh's disadvantaged areas. Our venue is the vibrant North Edinburgh Arts, a lovely theatre space just a short bus ride away from Edinburgh's city centre.
LINE UP:
Freya Pellie (Rope)
Colin Morton (Triple poi)
Mary Reynolds (Aerial Hoop)
Will Borrell – Will Be Juggling (Diabolo)
Rosella Elphinstone (Silks)
Kalina Suter (Dance Trapeze)
Ross Calvert (Cyr wheel and juggling)
Zoja Dravai (Aerial Chains)
Bebe & Bado – Paper Doll Militia (Acrobatic dance)
Jusztina Hermann (Multi hoops)

Event hosted by Miss Truelove Waits.
Walkabout characters and stage hands: Rosamund McCormack, Zoja Dravai and Jusztina Hermann.