GROUNDED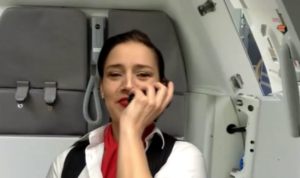 "Grounded" is our new show in development about a couple of redundant flight attendants trying to find purpose in life without flying.
A mix of circus, movement choreography, text and climate science, live music, soundscapes and humour are the building blocks of the show at these early stages of exploration.
The is show based on the current climate changes and the sacrifices we all have to make as indivudulas and as a society. It also reflects on how our life changed due to Covid-19, the impossibility of starting a new career after investing so much into one we truly love but we can no longer pursue due to circumstances out of our power.
#MYBODY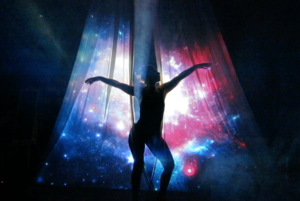 Our new cross-artform show on body image, currently in development.
The work is fusing various disciplines: circus and aerial, puppetry and object manipulation, physical theatre, audiovisuals and a range of choreographic techniques from contemporary dance, hip hop, movement with shadow to nowadays TikTok trend moves to relate to teenagers.
The diversity of techniques are to represent the contrast between the insanity and superficiality of social media world and the deep struggles of the soul.
Aimed at teenage audiences this performance piece is aiming to find means of self acceptance and self love in a world where unachievable beauty norms are dictated by social media and peer group pressure. This has serious consequences on our self image and mental health, causing a sense of isolation, self loathing and loneliness.
ETUDES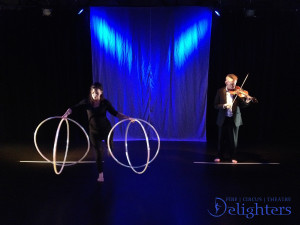 This project is a collaboration between Hungarian/Scottish dancer/hula hooper Jusztina Hermann and Derry-based fiddle player Robert Peoples to explore a blend of disciplines, circus, contemporary dance, choreography and improvisation with live music. We have a 15 minute version of the show ready, and working on additional scenes.
The premier of the full length show is in Spring, 2016.
Music: Robert Peoples
Choreography: Jusztina Hermann
With the support of Echo Echo Dance Theatre Company, Derry
MINDFULNESS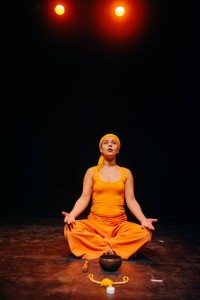 "Mindfulness meditation is practiced sitting cross-legged on a cushion, or on a chair, with the back straight. Attention is put on the movement of the abdomen when breathing in and out, or on the awareness of the breath as it goes in and out the nostrils. If one becomes distracted from the breath, one passively notices one's mind has wandered, but in an accepting, non-judgmental way and one returns to focusing on breathing."
A 10 minute clown performance, premiered at Assembly Roxy as part of Clown Cabaret Scratch Night in November 2015.
Director/performer: Jusztina Hermann
With the creative input of Tim Licata
THE CROSSROADS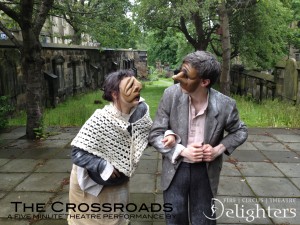 Director: Jusztina Hermann
Actors: Andrew Simpson and Jusztina Hermann
Camera: Chih-Peng Lucas Kao
Masks courtesy of Simon Abbott
Special thanks to St John's Church Office, Maria Gonzales and Emily Martinelli
Five Minute Theatre performance for the National Theatre of Scotland's #fiveminutetheatre project.
He wants to go that way. She needs to go elsewhere. This never happened before. After decades together on the road it is time for them to part – but will they be able to stand on their own, follow their own dreams and fend for themselves? Will independence make them stronger or demolish them?
Exploring the theme with mask work, theatre clown, physical theatre and sound this 5 minute piece is aiming to be funny and deeply thought provoking at the same time.
The performance was recorded with live audience for NTS's 24hour Broadcast (23rd-24th June). We'll upload the footage after the broadcast and share it with you.
VENUE:
St John's Cathedral's Cemetery off Lothian Road / the West End of Princes Street. Friday 13th June, 2014.
.
THE GIVING TREE

Written by Shel Silverstein
Movement by Jusztina Hermann
Visuals by Andor Merks (PsyShip www.psyship.com )

Music by Marco Cadena (Worlds.Of.Sound www.worldsofsound.net )
Once there was a tree… and a little boy. This is a moving story of relationship, love, nature and human nature.
This is a multidisciplinary arts performance based on Shel Silverstein's story, The Giving Tree.
Live visual projection, music and movement (Contact Juggling, Butoh and Physical Theatre) meets in this hear breaking and moving performance.
Length: 15 minutes
.
IT'S A SHE

Directed by Jusztina Hermann
Performed by Alena Polakova, Janine Fearn, Emma McInally, Sabrina Martin, Lisette Boxmann, Jusztina Hermann.
After the shock and pain of arriving into this world a baby's destiny is already determined in one way or another. Especially if it's a girl.
Six women and a large piece of red fabric take us on a journey into the lives of women and the violence they have to suffer around the world, through visual images and sound-scapes in Jusztina Hermann's piece.
(With special thanks to Balazs Hermann, Ali Murray, Calum McAskill and Magda Jednorowicz.)
This piece contains partial nudity.
Length: 10 minutes*
First show: EXPOSURE 2-5th June 2010. The Arches, 253 Argyle Street, Glasgow G2 8DL.
*in developement into a 60 minute performance.
.