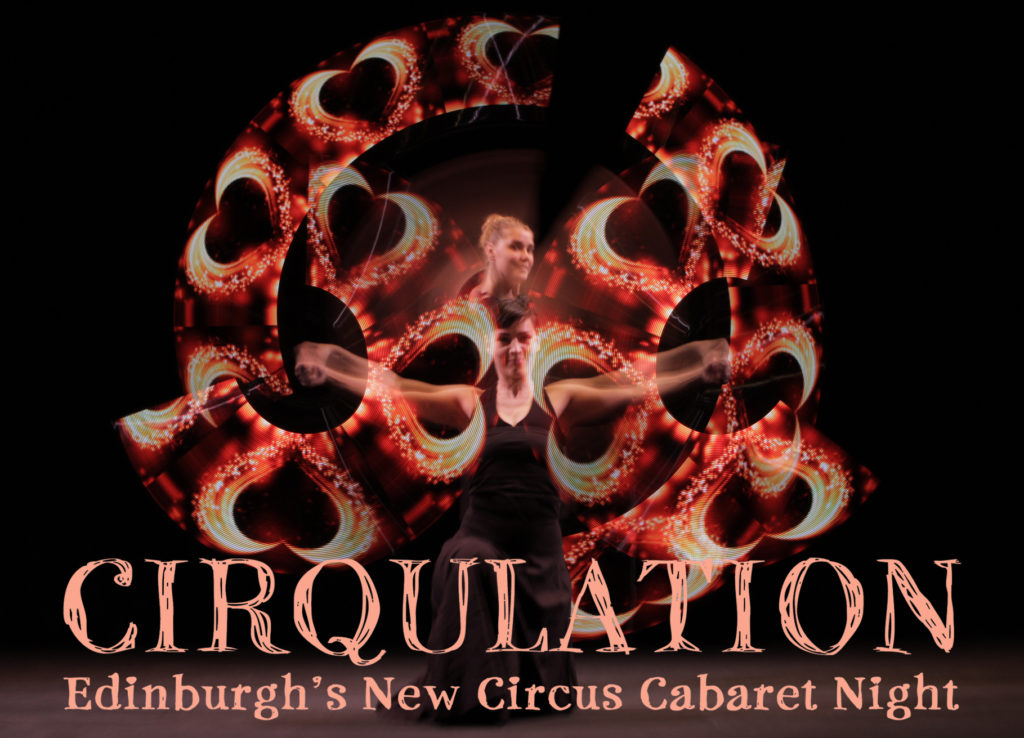 Scotland
's new Circus Cabaret Night: CIRQULATION is back!!! Freshening the blood flow of Circus Arts in the capital of Scotland.
Welcoming back the light the theme this time is LOVE.
The inspiration for so many works of art, poetry, song, blessed madness, the seed of life.
Think sweet or accomplished, dangerous or tainted, walking in the clouds, obsessive, ridiculous, cheesy, grotesque, twisted, unfulfilled or platonic.
The event is to inspire the creation of new acts by established and emerging circus artists across Scotland and to make contemporary circus available for communities in Edinburgh's disadvantaged areas.
Our venue is the vibrant North Edinburgh Arts; expect a cafe with hot drinks and a lovely theatre space just a short bus ride away from Edinburgh's city centre.
In the creation of new acts we offer mentoring to artists and the chance to show work to a live audience. In each cabaret night there is the opportunity of showcasing existing work too, to show some of Scotland's best stage acts to a wider audience. This is also a good networking opportunity for artists from the industry, whether they are performing or coming to watch the show.
Call for submissions for this edition is now CLOSED.
Like and keep an eye on our Facebook page to follow acts being announced.

Photo by
Tomas Sheridan
/ polifilm.co.uk
 .
What others said about the event:
"Great show!
Colourful, clowny and quirky presentation, very good compare, wide variety of acts including young, new and world class.
And a very nice wee friendly venue.
Many thanks." 
Michael Angelo Hanson
 .
"

Thank you for an amazingly inspiring show

!"
Lucy Power, Rowanbank Environmental Arts and Education
 .
"

The best one yet. Massive Respects to everyone for an excellent show.

"
Ron Oliveira, Pyroceltica
 .
"

Such an amazing evening, can't wait for the next one

"
Liat Adler
 .
Photo/ Light Painting for the flyer by Philippe Monthoux

Venue:
North Edinburgh Arts is at 15a Pennywell Ct, Edinburgh, EH4 4TZ